John Stewart and Isabella Lindsay
John is the first Stewart we trace with certainty, although we suspect we have found his parents James Stewart and Janet Nicholson from the 1841 census of Portree in the Isle of Skye.
JOHN STEWART 1838 - c.I896
married (1865) to Isabella Lindsay 1847 - 1923
John was born in 1838 in the Isle of Skye, Scotland. His parents were James Stewart and Janet Nicholson.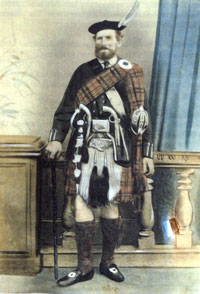 It was said that John was a large brawny Scotsman who had only worn kilts until he came to Australia. His date of arrival is unknown, however the discovery of gold in New South Wales and Victoria in the 1850's created a large increase in Scottish emigration to Australia. John and his parents were not included in the 1851 census of Portree, Isle of Skye so it is possible that the family may have migrated by then. Public Record Office shipping records on the Internet list 81 John Stewarts, 61 James Stewarts and 13 Janet Stewarts who immigrated between 1852 and 1865. It has not been possible to match these entries with our Stewarts at this stage. Also, at this time we have not accessed records prior to 1852.
On the 25th August 1865, at the age of 27, he married Isabella Lindsay, aged 18, at the Congregational Parsonage at Sandhurst, Bendigo, Victoria. John's occupation was given as blacksmith and his usual address as High Street, Sandhurst. His present address was Ironbark, Sandhurst. The marriage was witnessed by Isabella's father, Robert Lindsay of Happy Valley and Eliza Fletcher, believed to be the Minister's wife. The Minister performing the ceremony was The Revd William Fletcher.
John and Isabella had ten children, two of whom died as infants. In the mid 1880's before the last child, Edward, was born in 1887, the family moved to Kerang.
It is believed that John worked as a blacksmith in Bendigo and in Kerang. It appears that John may have left the Kerang area in the early 1890's, supposedly to look for work, while leaving his family behind.
The Stewart family bible states that John died on 3rd June 1896. However there is no official record of his death in Victoria at this time, or for the five-year period around 1896. A search was also conducted for the Balranald, New South Wales, area from 1894 to 1898 inclusive, but this also yielded no result.
A further search of "Federation" records on CD Rom. has been unsuccessful. Another possible search area is Kalgoorlie, Western Australia - apparently many Victorians travelled there in search of gold in the 1890's, however preliminary checks have yielded no leads.
Isabella Lindsay 1847 -1923
married (1865) to JOHN STEWART 1838 - c.1896
Isabella Lindsay was born on the 10th March 1847 in Glasgow, Scotland. Her parents were Robert Lindsay and Mary Arm Smith.
The Lindsay family arrived in Australia on the "Ulysses" in January 1855. Those travelling on the Ulysses were Robert and Mary Ann Lindsay and their children, Robert (aged 13), Isabella (aged 7), Frederick (aged 4) and Elizabeth (aged 1). Also travelling on the Ulysses was a "Smith" family. It is quite possible that this was Mary Ann Lindsay's (nee Smith) family, including her father and two brothers and their families. This has yet to be verified.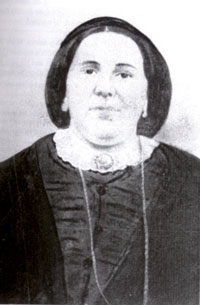 Isabella had three brothers, James, Robert and Frederick and two sisters, Mary Ann and Elizabeth. James, Mary Ann and Elizabeth possibly died as infants. Isabella's mother (Mary AM Lindsay) is buried at the Eaglehawk Cemetery along with her son Robert and his wife Margaret and their children. There is no record found yet of the burial of Isabella's father Robert). Robert was still living when his wife died in 1877.
Isabella married John Stewart at Sandhurst on 25th August 1865 at the Congregational Parsonage. Isabella was expecting her first child who was born just six weeks later.
Isabella and John Stewart had ten children, James, Mary Ann, Robert, John, John (Brassey), Fred, Janet, Isabella, William and Edward. They moved to Kerang in the mid 1880's.
Isabella was said to be a small woman who usually wore a black crocheted cap and a dress/coat. She had her gloves and boots especially made. Isabella was often away from home helping as a midwife.
She died in Kerang on the 15th January 1923 aged 75 (although both her death certificate and headstone say 73 years). The cause of death was "senility and heart failure". Isabella had been sick for three days and was attended by Dr. Nankivell. Isabella is buried in the Kerang Cemetery with her son, Robert.
The headstone reads:

In Memory of
Robert Lindsay Stewart
Late A.I.F.

Died Nov. 13 1921, aged 51 years
and also Isabella Stewart
Mother of the above
Died Jan. 15 1923, Aged 73 years.